Join a live Jazz Session at the comm café of the Minoh Multicultural Center with Itaru Oki (trumpet) and Makoto Sato (drums), performing a fusion of Parisian Jazz and east Mediterranean music.
Date: Saturday, October 3rd (door open at 6pm, session start at 6:30pm)
Theme: Living as a foreigner
Guest performers: Sefer(Saz, Oud)&Kiyotaka Moriuchi ('darbukka' percussion)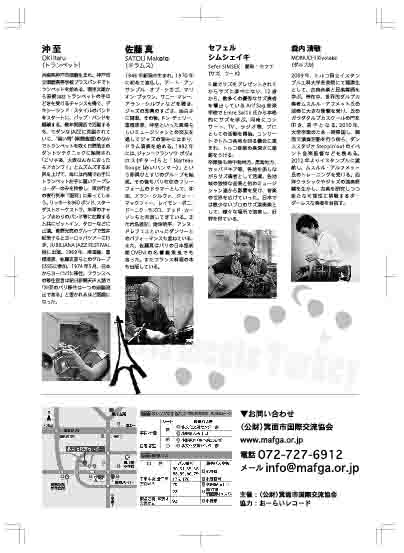 Ticket price: \3,000 with one drink (\2,500 for an advance ticket)
Venue: comm cafe at the Minoh Multicultural Center
Ticket sale: the Minoh Multicultural Center (5-2-36 Onohara-Nishi, Minoh)
Reservation: Mail to info@mafga.or.jp at the Minoh Awareness of Multicultural Awareness(tel. 072-727-6912) with name, phone number and the number of tickets to buy. Payment method will be informed by return.
Music Performers:
Itaru Oki (Trumpeter)
Born in Kobe and started playing a trumpet in high school, Oki developed his career with Fumio Minamisato as a mentor to play a jazz trumpet and joined a brass band of Dixieland music. After playing several years in Kansai areas, he moved to Tokyo and played with various jazz bands. He joined a European tour of Mikiko Kasai and her group and participated in the JUBILIANA JAZZ FESTIVAL. In 1969, he joined the ESSG with Masahiko Togashi. In May 1974, he moved to Paris.
Makoto Satou (Drums)
Born in 1946 in Niigata and moved to France in 1970. Inspired by jazz players like Art Ensemble of Chicago and Marion Brown, he started his career as a jazz drummer. In 1992, he joined a group 'Marteau Rouge' which specialized in impromptu jazz performance with a guitarist Jean-François Pauvros in Paris. As a freelance drummer, he performed at jazz sessions with other jazz musicians like Alan Silva, Joe McPhee, Raymond Boni and Itaru Oki. He was also an honorable editor of Japanese paper OVNI in Paris, and authored a French recipe book.
Kiyotaka Moriuchi ('darbukka' percussion)
In 2009, he learned traditional Turkish music and dancing at a music school of the Istanbul Technical University. There, he was deeply influenced by Misirli Ahmet, and studied under Ashmet at his darbukka school. He temporarily returned to Japan in 2010 and involved with Turkish music event and became music director of a dance studio "Steppin'out." Exploiting his experiences in classic and jazz music, he sets his new challenge of developing new 'borderless music'
Simsek Sefer ('saz' string instrument)
Began playing saz at age 5, and studied under Emre Saltik at the Arif Sag Music School at age 12. He performed at various venues and media in Turkey, and was influenced by Turkish music. After having graduated from the school, he toured the Mediterranean and the Black Sea areas to play saz and broadened his music perspective. He established his name as one of the very few saz players in Japan.